Adventure connection: Arenal to San Jose Transfer Rafting Ziplining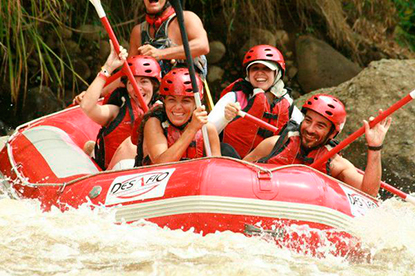 Duration: 10 Hours (approx.)
Location: Puerto Viejo de Talamanca, Talamanca
Why not turn your day of travel into a day of fun and adventure?
You'll drive along the Pan-American highway, making your way through the Los Angeles cloud forest to the San Luis Canopy zipline tour.
This unique ziplining tour takes about an hour and a half with tree-top canopy zipline cables between 50 to 550 meters long and up to 106 meters high! This is one of the best ziplining tours from San Jose.
As you zip from tree to tree, you'll see spectacular views of the beautiful mountains, the rushing Cataraticas River, impressive waterfalls and lush rainforest.
The "Elevator" is one of the thrilling attractions of San Luis that makes the tour unique: it securely lifts visitors high above the forest canopy, granting a paramount view of the surrounding area!
After the canopy zipline tour, you'll get a second dose of adrenaline-pumping fun: we'll head about 30 minutes to private entrance of the Balsa River and prepare for a thrilling Costa Rica whitewater rafting experience.
You'll receive thorough rafting lessons, safety instructions and high quality rafting gear before embarking on an unforgettable journey down the famous Balsa River. This is one of the best rafting trips in Costa Rica.
You'll cruise your way through over 25 exciting rapids of class 2 and 3, giving you enough time and opportunities to see plenty of nature and wildlife, lush vegetation, jungle vines, tropical birds, and sometimes even monkeys and sloths!
About half way through, you'll have a chance to enjoy the rapids from the shore, relaxing with the rest of the group and enjoying a refreshing tropical fruit break.
Next, head to a lovely rural restaurant to enjoy a traditional Costa Rican lunch. Have you ever had a Casado? A traditional "Casado" is a full spread of rice and beans, vegetables, salad and your choice of beef, chicken or fish. There are plenty of vegetarian options and we can assist with just about any dietary needs such as gluten free and vegan. You will love this farm to table meal with Desafio.
When the day is done, relax in our comfortable, air-conditioned vans as we drive you to your new vacation destination just in time for sunset! You'll consider this day one of the best you've had on your Costa Rica vacation!