Pure Jungle Spa Therapeutic - Deep Tissue Massage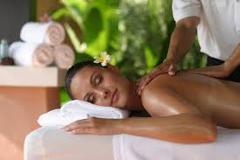 Duration: 1 Hours (approx.)
Location: Puerto Viejo de Talamanca, Talamanca
The Pure Jungle Spa has been featured in many travel
articles about Puerto Viejo including articles in USA Today and Conde Nast
Traveler. It can be a highlight of your vacation too!

This massage focuses on realigning deeper layers of muscle tissue,
tendons, and fascia. It can reduce pain, increase range of motion,
relieve muscle spasm, and improve circulation.

Our globally trained therapists use a blend of massage styles.
Couples massages: Side-by-side in the same room.