Caribe Shuttle Liberia to San Juan Del Sur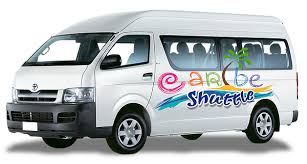 Duration: 24 Hours (approx.)
Location: Puerto Viejo de Talamanca, Talamanca
Our shuttle will pick you up near the BCR bank at Plaza Santa Rosa in downtown Liberia and take you to the border with Nicaragua. There, a guide will assist you with the immigration process out of Costa Rica and into Nicaragua. Another van will be waiting on the Nicaragua side to continue your journey to San Juan. We will drop you off at your hotel between 12:30 & 1 pm. Daily departures at 9:15 am.
IMPORTANT NOTES:
There is an $8 exit fee to leave Costa Rica and a $13 entrance fee to enter Nicaragua. These fees are NOT included in the ticket price.

Pick-up time is an estimate and may vary by 15 minutes either direction. Clients should be waiting at the assigned pick up point 15 minutes before the assigned pick-up time. The shuttle will wait for clients a maximum of 5 minutes. If after that waiting period the client is not on board, the shuttle will leave without the client and the client will NOT receive a refund.
*All rates are subjected to taxes.