TORTUGUERO 2 DAYS / 1 NIGHT - Exploradores La Cason Economy) or La Baula (Standard)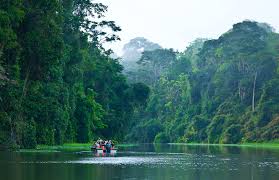 Duration: 1 Days (approx.)
Location: Tortuguero

2-day Tortuguero Expedition
We have daily departures from San José, the Caribbean Coast and the
Arenal Volcano, giving you the choice to start at the place of your
preference. This is an excellent option to be combined with our Río
Pacuare Rafting trips.
$149 per person – Tortuguero Economy (Accommodations in La Casona)
$174 per person – Tortuguero Standard (Accommodations in La Baula Lodge)
Both La Casona (economy option) and La Baula Lodge
(standard option) are located only five minutes from the Tortuguero

National Park. They are focused on the respect, protection and
conservation of the environment and of the flora and fauna of the area.
Both feature rooms with private bath, hot water and fans. They have
authentic Caribbean style, painted with bright colors that identify the
culture of the area and lush gardens.
Prices based on double occupancy. Economy option has a supplemental charge of $15 for single travelers.

DEPARTURE / RETURN LOCATION
San José, Puerto Viejo or Arenal with option to change destination.


DEPARTURE TIME
From 5:30 to 6:30 am, depending on the location of your hotel


RETURN TIME
Approximately 5:30 pm


WHAT TO BRING
Light clothes, swimming suit, sunscreen,
hat, camera (ideally water proof), water bottle, comfortable walking
shoes, insect repellent, binoculars, raincoat. For the night-tour please
wear dark clothes.

INCLUDED
1 naturalist canoe tour
1 tour of town
1 night of lodging
2 breakfasts


Transportation to/from San José, Puerto Viejo or Arenal
NOT INCLUDED

Lunches

Dinner
National Park entrance ($15)
Caribbean Conservation Corporation ($2)
Please note an add $15 for single traveler La Casona

Turtle nesting night tour ($25 + $10 if you stay at La Baula Lodge for transportation)
Tortuguero National Park is the best
place in Costa Rica to encounter wildlife. It consists of a large system
of waterways irrigating the majority of the Northern Caribbean area of
the country. Because of its remote location and difficult access this
pristine rainforest remains virtually untouched and it is home to many
animals like sloths, monkeys, crocodiles, toucans, trogons, water birds,
colorful frogs and butterflies. This National Park is also the prime
nesting site for the green and leatherback sea turtles from July to
October, during which months an optional turtle nesting night tour will
be available.
On the first day we will drive to the
Caño Blanco embarking area where we will access the main canal to go
north into the National Park. We will check in and at 2:00 pm.
Then we will visit Tortuguero Village.
On the second day we will embark on a
canoe trip into the jungle where you will explore the lagoons and hidden
canals, as we go deeper into the forest the canals become smaller and
the surrounding wildlife gets closer. You can expect to receive plenty
of good information from your naturalist guide. We work hard on making
this tour a learning experience.
After the canoe tour we will go back to
our hotel for breakfast and check out. At 12 noon we start our boat ride
back to Caño Blanco with the option to be dropped off
in San José, Puerto Viejo or the Arenal Volcano.
*All rates are subjected to taxes.