Trimaran Sailing & Snorkeling Tour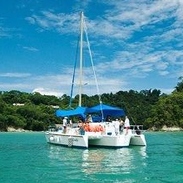 Duration: 5 Hours (approx.)
Location: Manuel Antonio
The tour begins from when the shuttle service picks up the guests from their hotel. The Head Guide will be waiting at the wharf to receive the guests is and then accompany them throughout the journey. The vehicles, which are equipped with air conditioning, transport the guests to the Quepos Wharf. Waiting at the wharf to receive the guests is the Head Guide, who will accompany them throughout the journey. The Guide welcomes the clients aboard and explains details about the trip and safety ground rules during their stay in our sailboat.
The captain directs the vessel for the surrounding coast, while the guides are responsible for ensuring a pleasant stay, providing clients with information about the route or aquatic life and answering any questions. Also during the whole journey, guides will offer natural drinks, soda, water and beer. During the tour visitors have the opportunity to see dolphins, stingrays, sea turtles and migrating whales. From the boat major islands in the area may be viewed including Olocuita and Isla Verde, which was used many years ago by the native Quepoa Indians as a cemetery.
After enjoying the different islands we continue sailing to the coast of a beautiful beach called Bizans, where the passengers will be provided with appropriate equipment for snorkeling. Upon completion of this activity our guests enjoy a delicious lunch or dinner, according to the time schedule of the tour.
After enjoying the beauty of sea, sun, sand, and the fresh ocean air, visitors return to the dock where we hope each one will disembark with great memories of this experience in paradise... an experience to be treasured forever.
Note: This tour is advised to be taken in the morning, when the wind is stronger and more time can be enjoyed snorkeling when the sea water is clearer. In the afternoon the activities will not be exactly the same. For example, the beautiful sunsets are much more romantic, but during the Rainy Season tours sometimes do not operate in the afternoon due to heavy rain.
Includes: Air-conditioned transportation, a tour guide, a lunch or dinner meal, snorkeling gear, fruit, soft drinks and water.
rates subject to VAT Tax